Online In-Person Yoga Classes Available
CALL 816 561 5337 to arrange Classes to Suit YOUR Individual Needs and Safety at the 3HO Center
IMPORTANT: We want to accommodate as many students as possible but also assure students that we have their safety and ours as our first priority. Beginning March 1 we will be holding classes on the following schedule and with the following important provisions and precautions:
Classes are Monday (9 AM and 7 PM); Thursday, 7 PM; and Sunday 9 AM.
ALL participants in classes offered on line and in person as well provided participants are pre-registered.
In person participants MUST register & pay at least one hour BEFORE class. 

There are no exceptions

to this so we can maintain a safe limit to each class. This will allow for safe social distancing. Purchases of Class Blocks are recommended and specially discounted blocks are availabkle over the course of the pandemic.
Masks covering the nose and mouth are allowed but not required. Temperatures will be taken for each teacher and in person participant.
We know how important the practice of Kundalini Yoga is to all of our students. We want to emphasize that it is just as important to our teachers. Steady practice and learning can account for a safer passage through these difficult times. Our pranayam practices offer substantial protection from airborne infections. Steady meditative practices will give us the intuition and calm meditative intentions to allow us to maintain a clear view of our safe behavior during this global emergency. We teach with a sense of urgency so our students can take actions for their own inspiration and safety.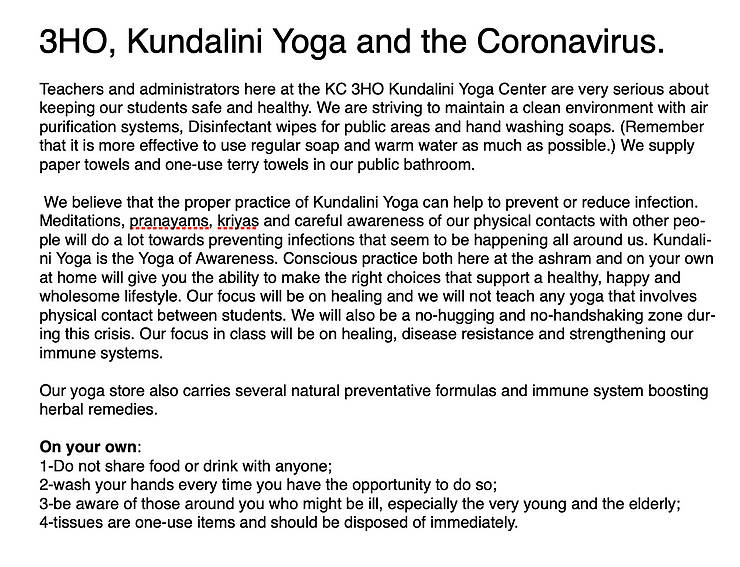 VEDIC REMEDIES FOR COLDS AND FLU
Although the cold winter season has not yet arrived, viruses are already here. Let's all do what we can to stay healthy and happy this year. 
Yogi Bhajan's Recipes for staying healthy during flu season.
The Immune Enhancer (1 serving)  1 clove garlic 2 medium carrots 1 tomato 2 stalks celery Wash and dry all the ingredients.  Juice and drink, preferably within 2 hours of preparation.  Refrigerate.  This juice helps patients prevent and survive cancer by supplying a vast array of antioxidants and phytochemicals shown to have cancer-fighting properties.
Boost your Immune System Breakfast (1 serving)
5 almonds, or pistachios, or cashews 1-2 tsp. Fresh ginger, peeled, then grated or chopped very fine ½ tsp extra virgin olive oil 1-cup low-fat plain yogurt
Saute the nuts and ginger in olive oil for 3 minutes, then add the yogurt.  Cook well for another 3-5 minutes, until mixture becomes brown.  Eat as your first meal in the morning. Almonds, pistachios, and cashews are a source of protein and omega-3 oils.  They help bone marrow, nerves, and reproductive tissues, and they enhance memory and creativity.  Ginger is a natural anti-inflammatory, and yogurt provides protein and accelerates the absorption of these nutrients by the tissues.  This ancient yoga nutritional recipe is recommended to assist the immune system, especially the prevention of colds, coughs, and the flu. Anti-Viral Recipe Take a handful of cloves and soak them in room temperature water overnight-no need to boil.  First thing in the morning, when you brush your teeth, take 3-4 tablespoons of the clove water (not more then 5-don't overdo it.), swish it around in your mouth and then swallow.
For convenience, you can make enough for three of four days and keep it in the refrigerator.  For best results, take some every day throughout the months of the flu season.
"It will save you from a lot of viral diseases.  …  Your ears, nose and throat will all be all right.  Symptoms will almost not appear.  If you do it every year, you will never fall apart" -Yogi Bhajan Flu Remedy – 1  ¾ cup strong ajwain (oregano seed) & peppermint tea ¼ cup yogi tea
Flu Remedy – 2  1 tbsp olive oil 1 tsp turmeric Saute until cooked.   Add 1-2 inches of fresh ginger root, peeled and finely processed. Saute until cooked.  Add  5 nuts (any kind is fine.  If you use almonds, keep the skins on.) Saute until cooked. Add 1/2 – ¾ cup of plain yogurt
Eat this alone, or on a slice of bread EVERY DAY.  Continue through the winter months.  Serves 1.